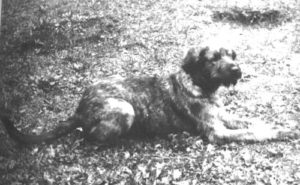 I (Heili) had dreamed about MY VERY OWN dog since early childhood, but it was in the spring of 1986 when it finally was fulfilled. RINGO (see picture above, in the Estonian language part) whose mother was a fawn Great Dane and sire unknown (a bigger terrier, we assumed) was a real pearl among the dogs: calm, quiet, obedient. In autumn, before he was half a year old, we started going to "doggy schiool" and he became quickly a top pupil. Unfortunately Ringo fell ill of parvo and died at the age of 6 months.
Because of Ringo I wanted a Great Dane. After a thorough disinfection of my home I started reading dog ads and at the beginning of 1987 I saw: "9-month-old black male Great Dane available." I rushed to the place, and next day I walked home with LORD.»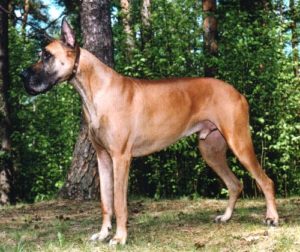 Lord was my dog in the most literal sense, he was very attached to me and quite jealous of anybody approaching me. Thanks to lord I became interested in the world of pure bred dogs, Great Danes and their history. We also attended a show with Lord, he received a diploma and a gold medal; unfortunately Lord died of heart attack in the summer of 1989 at the age of 3 years.
Life without a dog seemed very empty, but my circumstances did not allow me to take a new dog immediately. Until the Fate interfered: there was a fawn Dane puppy brought from Moscow available, I fell in love with his black face and took him home. Daimer de Margot became LARRY (see photo above, at the Estonian part), a sweet and patient dog who was never in a hurry. Larry sired four litters; two of his children from the first litter became Est Ch: Fanny ja Fiamma. The latter was the foundation bitch of the Mu Lootus kennel, and her progeny can be still seen around. Larry was my first dog to live the "normal" span of life — 10, 5 years.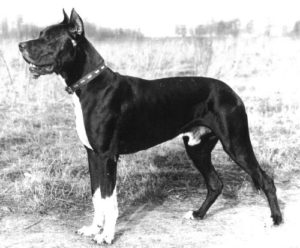 Four years later another Dane joined us. Monica Stavenborn, a famous Dane breeder from Sweden presented two puppies to Estonia and I received Kingsize Destination Estonia, commonly known as TESSU (or Desti) », absolutely irresponsible, cute guy, Larry's pal and pain in the neck. Tessul had one litter in Estonia with Karmen-Nal. There were 3 harlequin puppies and two of them "made it". The bitch – Kerri-Karolain-Allegria – was the very first Estonian born Great Dane to become Int Ch and she is the foundation bitch of  the Sorbus Intermedia kennel. The boy – Kerri-Karolain-Arguto — also became Est Ch. Both improved the breed in Estonia and their progeny is doing internationally well in Estonia. Desti also lived until the age of 10, and then there was almost a year's break.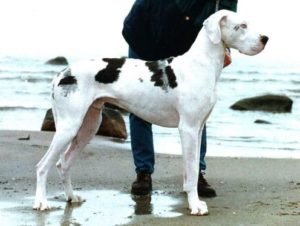 I had already found a Dane puppy for myself, but started to ask myself if my then lifestyle would be good for such a big dog. My good friend Livia recommended Golden Retriever and I followed her advice. Thus CARLO came into my life, I gave the new breed my littgle finger, only to realise that it had grabed my hand and stolen my heart.