Visit to "mountainous" Estonia where together with dogs we have wonderful after-Christmas at Pille's and Aulis's friendly home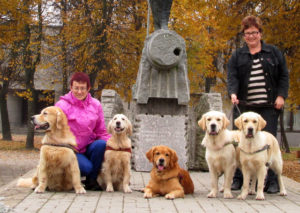 11.-13.10 first we travelled to South Estonia to pick up another team member – Skylinedog Rose Jennifer (extrteme right on the picture), to continue to shows in Latvia and Lithuania. Dogs performed well, we had time to walk in the towns, play in the forest and be beautiful in the show ring. Results: Guldfynd's Careful Casillas (on the extreme left) became Latvian, Lithuanian and Baltic Veteran Champion; Reval Dream Esprit (2nd right) – was BOB junior in Lithuania, Best male and BOS, Tenfield Tori (in the middle) – received Lithuanian CAC in working class. It was a long and tiring, but lovely trip.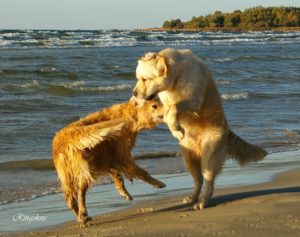 03.10 – we celebrate Caesar the Boxer's 12th birthday and Hanna's 4th month birthday with common fun by the sea.
23.09 – early in the morning our cat Sassu went over the rainbow bridge.
07.09 – Tallinn show, the whole team engaged. Reval Dream Esprit gains his second juniorCAC; Trebell Ticket To Ride is 3rd in Open class with CK, Tramin Magellan 1st in Champion class – so that in Best male ring three our boys are competing and Inga has to become a handler. Tramin Rhyanna is 2nd best bitch and together with his sire Trebell Ticket To Ride they are the best brace. It is a truly excellent day!
August – a month of family reunions. First we visited Carlo's mother and grandmother, then we were visited by Carlo's daughter Ringa from Finland.
17.08 – At Tallinn International Show Open class 2nd with "certificate candidate"
18.08 – Tallinn International show, Ringokris Kernow Viviana 4th excellent in Open class
11.08 – At Väimela show Priidik (Reval Dream Esprit) receives junior CAC (critique) and Charlie (Trebell Ticket To Ride) is 3rd "excellent" in open class (critique). 
We also visited our friends in Skylinedog kennel, Carlo's father Jake (Ritzilyn Blues Brother) who has birthday at the same day as his grandson Priidik, and Charlie's and Alvin's daughter Ari's son Riki (Kämpfer Fänge Richard Burton).
03.08 – a small gathering "Ringokris and friends" with 10 dogs attending
At the end of July Elena Fedosseeva from Cantrygold kennel (Russia) visited us and brough Alvin's daughter here. In addition to a day spent on the north coast, we also attended our Golden Club summer days in South Estonia and its specialty show. Pictures All the dogs we had taken – Reval Dream Esprit, Tramin Magellan ja Trebell Ticket To Ride – received "excellent" grade.
27.06 – Alvin returned from his long show and pleasure trip. We made him a gift: a common walök to the sea. The gang was whole again!
24.06
– The Ringokris family is joined by a visitor from Ukraine – 
Tramin Magellan
, Mailo for short. He has immediate rapport with all the Ringokris members: dogsm, cats, humans. And he enjoys his forest walks and swimming sprees.
Videos:
15.06 – Alvin in Cisnau wins CAC and CACIB and becomes entitled to the title of Moldovan Champion. Many thanks to Lena Ushan from kennel Tramin for her help!
02.-14.06– Lia visists her parents in Vääna-Jõesuu. Below some recordings of her life here:
Playing with halfbrother Priidik
02.06 At Estonian Winner show 2013, Ringokris Kernow Vallia in open class EXC2
01.-02.06 Tenfield Tori attends "Summer of the Black Sea" show at Illichevsk and becomes Ukrainian Champion. Thank you, Lena Ushan, for making this possible!
24.05 – we are visited by Pille with her puppy, Carlo's niece Jennifer. We attend the show for puppies and veterans organised by the Bulldog Club. Priidik is limping and receives only a good critique, Skylinedog Rose Jennifer is BOB puppy and BIS4 puppy. Carlo is BOB veteran and BIS-2 veteran. The day ended with a good swimming trip to the sea where  Jennifer learned to swim
Videod:
03.03 – Alvin's uncle Tenfield Challenger is BOB and Group 2. Congratultions!
02. and 03.03 – Tallinn National shows, Trebell Ticket to Ride – Exc3 in Open Class, shown – as usual – by Tõnu.
09. and 10.02 – At Valmiera shows in Latvia Ringokris Kernow Vallia wins 2 x Lv CAC, 1 x best bitch and BOS! Congratulations!
Priidik's show debut at Narva show ended with best of breed puppy and the next day prize for "very promising". Critiques here.
On Saturday we met Sven and Ringokris Kernow Volterro "Volli", son of Carlo and Rianna who came to cross toes for half-brother Priidik's group competition. Afterwards we went for a walk on the Narva-Jõesuu beach.