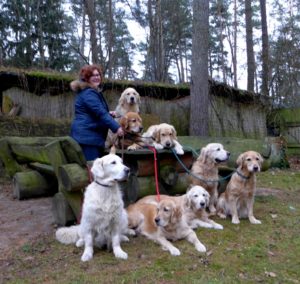 31. 12 Sending the old year away
31.12 On the picture (on the ground: Björbo Gullviva, Ringokris Kernow Tindomerel, her mother Tramin Rhyanna, her father Trebell Ticket To Ride, Rhyanna's daughter Ringokris Kernow Viviana. With Inga on the table: Tenfield Tori, Reval Dream Esprit & Mareluna Historia de un Sueno)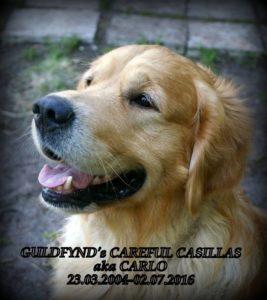 16. & 17.07  – Results from three shows in Ogre: Tramin Rhyanna – 2 x BOS veteran, Tenfield Tori – veteran CAC, Reval Dream Esprit & Ringokris Anorien Rumil both Lv CACs, ad the best brace at Retriever specialty – Tenfield Tori & Ringokris Kernow Tindomerel
10.07 –  By the seaside with dogs
02.07 – Sad day as we say good bye to our oldest Golden, the very grand old man Carlo
23.06 – Midsummer night with dogs and visitors from Ulgumaa
20.06 – Ringokris Kernow Tinuviel gets her second CAC!
06.06 –  mother Rianna and daughter Ringa (Ringokris Kernow Viviana) mother with two daughetrs – Rianna, Mirell & Ringa
04.06 – At Golden retriever specialty Rianna becomes Estonian veteran Champion!
29.05 – Moletai show, Lithuania – Tramin Rhyanna best veteran!
25.05 – Priidik is training for advanced gundog test and the meeting of the S-litter
14.05 – St Türi show for hunting dogs our bred Ringokris Kernow Tinuviel (Murmel) was best female and then BOB! Congratulations to owner Terje Mei! Both are also doing gundog training, so the prize was very appropriate!
07.05 – Our progeny Raumo was best male 2!
24.04 – Ben's second birthday with a cake (image beside) that was, of course, shared with best friends
08.04 – Small meeting by the sea, Ringokris Kernow Tindomerel, Thorondor & Thingol + Mareluna Hostoria de un Sueno, omadele Mirell, Ruudi, Fredi ja Ben
23.03 – Celebrating Carlo's 12th birthday
06.03 – Our Fidel (Vanilla Ice del Valle de Pielagos) becomes Estonian Champion and is BOS at Tallinn Show
14.02 – Our Rianna and Priidik are certified therapy dogs!
29.01 – Alvin's (Tenfield Tori) title of International Champion (CIB) is confirmed